The Silver Kings Project is located in Northern Ontario's most prolific silver mining camp, situated near the historic mining town of Cobalt, Ontario. The Project encompasses 10,000-hectare and consists of both Kuya's 100%-owned Kerr Project along with the Silver Kings Joint Venture that Kuya has entered into with First Cobalt Corp.
The Kerr Project at Silver Kings is located within a 900-hectare land package that includes several historic silver mines: Crown Reserve, Kerr Lake, Lawson, Drummond, Conisil, Hargrave, Silver Leaf and Bailey. Between 1905-1970, these mines produced over 50 million ounces of silver and 900,000 pounds of cobalt. Although incredibly prolific, the deepest mine shaft of the package was less than 200 metres, providing an exceptional opportunity for deeper exploration. Also included in the Kerr Assets is the nearby Silverfields property, which was previously mined by Teck until 1983 to a depth of 300 metres and produced over 17 million ounces of silver, further demonstrating the depth potential to some mineralized systems.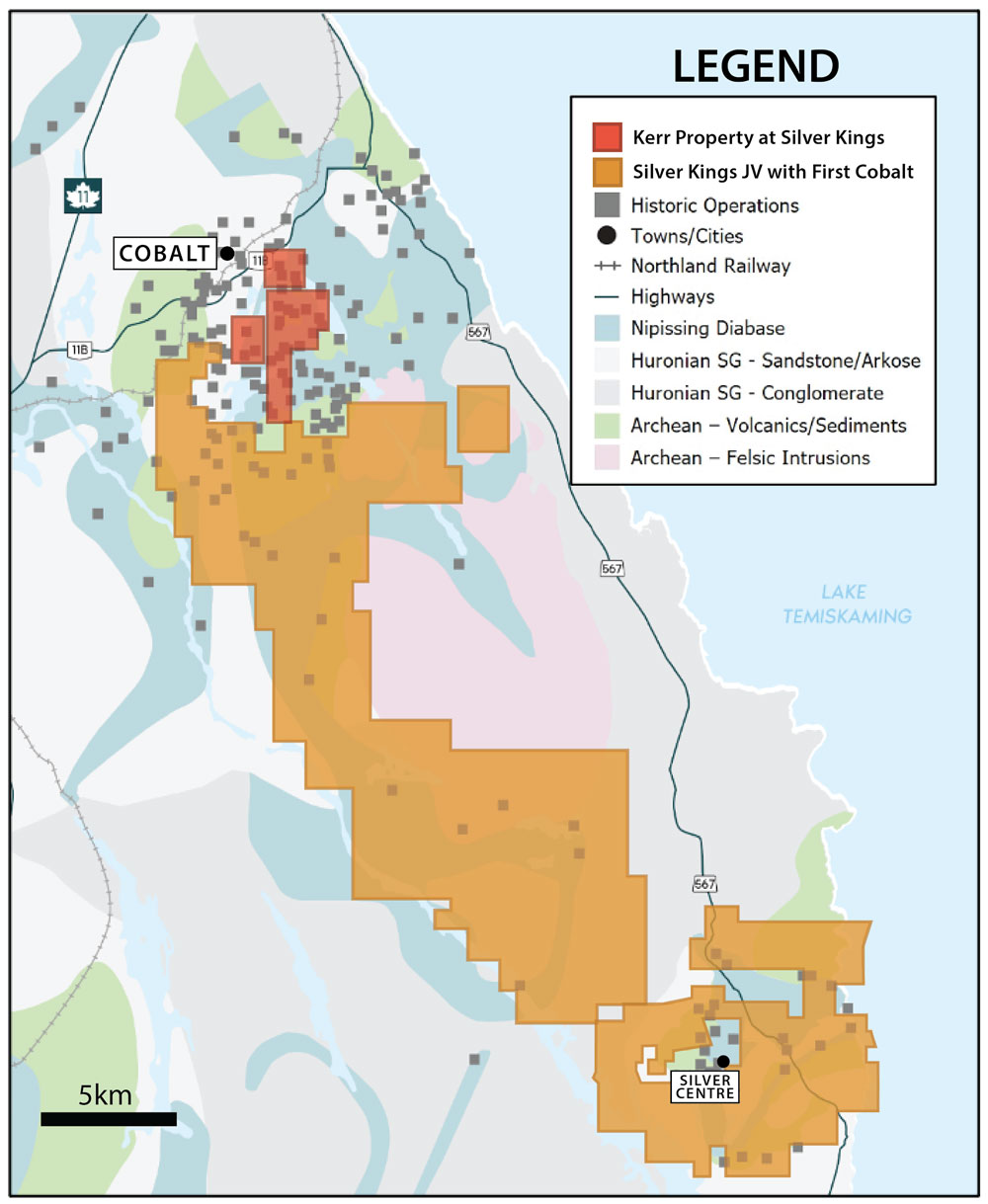 Bedrock geology of the Canadian Cobalt Camp properties highlighting the Kerr Property at Silver Kings (red box), and the Silver Kings JV (orange shading) comprising the full land package.
Upcoming Program
Initially Kuya's focus will be on the Kerr Project, where the vast majority of recent exploration activity has taken place. In 2017 -2018 the previous operator completed a shallow drill program where several bonanza-style silver intercepts were identified. Intersections from this program include:
FC-18-0058 intersected 3.57m of 821g/t silver and 0.45% cobalt (including 1.57m of 1,756g/t silver and 0.71% cobalt) from 29.43m.
FC-18-0174 intersected 2.5m of 1,441g/t silver and 0.28% cobalt from 66m.
FC-18-0094 intersection 2m of 450* g/t silver and 0.10% cobalt from 20m.
FC-18-0093 intersected 2.2m of 515* g/t silver and 0.61% cobalt (including 0.7m of 1,460* g/t silver and 1.81% cobalt) from 1.72m.
*Individual silver assays capped at 1500 g/t included in reported intersection
In 2021, Kuya will follow up on these intersections with new drilling in order to determine the extent of the high-grade silver mineralization. Additionally, Kuya has identified the potential for both extensions to previously-mined silver veins and new discoveries in the recent drilling. The Phase 1 exploration program at the Kerr Project is planned immediately and will include a 2,500m drilling program that is being budgeted to match a $500,000 flow-through expenditure commitment by First Cobalt.